How to Deliver a TED Talk
by Jeremey Donovan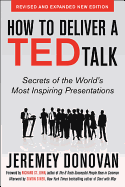 There seems to be a fine line between analysis and deconstruction, but the author, Jeremey Donovan, seems to have done an exceptional job of both for presenting to his readers what goes into making a TED Talk so engaging and an exceptional learning experience.
Moreover, Donovan writes with exacting precision and clarity. He has reduced redundancy to a level where it serves the purpose of inculcating a concept rather than being simply a filler of pages. The structure of the book also makes for a very accessible reference document.