Quiet: The Power of Introverts in a World That Can't Stop Talking by Susan Cain
At least one-third of the people we know are introverts.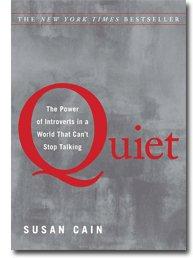 They are the ones who prefer listening to speaking, reading to partying; who innovate and create but dislike self-promotion; who favor working on their own over brainstorming in teams. Although they are often labeled "quiet," it is to introverts that we owe many of the great contributions to society. Quiet shows how dramatically we undervalue introverts, and how much we lose in doing so.
The author questions the dominant values of American business culture, where forced collaboration can stand in the way of innovation, and where the leadership potential of introverts is often overlooked. She draws on cutting-edge research in psychology and neuroscience to reveal the surprising differences between extroverts and introverts.
Articles, reviews, TED Talks, etc. related to the book Quiet
4 Ways sound affects us
Posted by Zachary Baquet on Tuesday, March 20th 2012
In our recent discussion about introverts and extroverts and workplace environments, I thought about these TED Talks by Julian Treasure. Julian Treasure is the chair of the Sound Agency, a firm that advises worldwide businesses — offices, retailers, hotels — on how to use sound. He asks us to pay attention to the sounds that surround us. How do they make us feel: productive, stressed, energized, acquisitive? He has three talks, all under eight minutes, on www.ted.com that I found compelling with some information about sound that I had not considered before. As the walls come tumbling down and the sound levels begin to rise higher, perhaps we should all take a moment to consider the impact of the sound around us on our productivity, health and ability to listen.
The 4 ways sound affects us (5:47) Treasure shows how sound affects us in four significant ways. Listen carefully for a shocking fact about noisy open-plan offices.
Shh! Sound health in 8 steps (7:14) Treasure lays out an 8-step plan to soften this sonic assault (starting with those cheap earbuds) and restore our relationship with sound.
5 ways to listen better (7:50) Treasure shares five ways to re-tune your ears for conscious listening — to other people and the world around you.
Liked "Quiet" by Susan Cain? Check out her TED Talk
Posted by Guadalupe Ramirez on Thursday, March 15th 2012
Author of the current Bungee Book Club selection synopsizes why introverts' natural proclivities are often undervalued.
Why the world needs introverts (from the Guardian)
Posted by Peggy on Thursday, March 15th 2012
Check out this extract from Quiet by Susan Cain, author of our current BBC book in Tuesday's issue of  the Guardian.
Brainstorming Doesn't Really Work
Posted by jbellis on Sunday, January 15th 2012
Article – Brainstorming Doesn't Really Work (The New Yorker – Jan. 30, 2012) Submitted by: Zachary Baquet
The Rise of the New Group Think
Posted by jbellis on Sunday, January 1st 2012
Article – The Rise of the New Group Think (New York Times – Jan. 15, 2012) Submitted by: Mike Colby

Quiet Project Management: Turning Up the Volume on Productivity (NASA)
By APPEL News and Roger Forsgren
Aug. 4, 2014