Reinventing Discovery: The New era of Networked Science by Michael Nielsen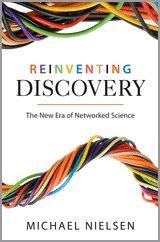 Michael Nielsen argues that we are living at the dawn of the most dramatic change in science  in more than 300 years. The change is being driven by powerful new cognitive tools, enabled by the Internet, which are greatly accelerating scientific discovery.
[T]his … book … [is] about how the Internet is transforming the nature of our collective intelligence and how we understand the world. … [It] is for anyone who wants to understand how the online world is revolutionizing scientific discovery today — and why the revolution is just beginning.
Princeton University Press 2012 
Articles, reviews, TED Talks, etc. related to the book Reinventing Discovery

New York Times article on 'open science'
Posted by marybeech on Wednesday, June 20th 2012     
In his article, Cracking Open the Scientific Process, Thomas Lin describes some of the ways in which the field of science is changing and becoming increasingly open.

New York Journal of Books: Reinventing Discovery Review
Posted by marybeech on Tuesday, June 19th 2012     
In his review of Reinventing Discovery, Robert Shaefer describes the book as "a survey, an analysis, a how-to, and a harbinger of greater things to come. Kudos to the author for picking a timely and relevant subject perhaps just on the edge of social consciousness and making a great story out of it."
Michael Nielsen's TED Talk
Posted by jbellis on Friday, May 4th 2012     
Michael Nielsen, in his 16 minute TED Talk, explains the notion of the open science movement, why it is important and what are the major barriers to its success.