The Tipping Point: How Little Things Can Make a Big Difference  
by Malcolm Gladwell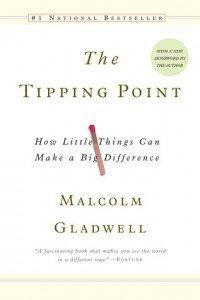 The Tipping Point was first published in 2000. Since that time, the book has become one of the most widely cited writings on social change ever.
This not to say that Gladwell is not without critics. The resources (reviews, videos) presented here represent both persuasions — pro and con. They certainly add another dimension to our reading of Gladwell's perspective.
Articles, reviews, TED Talks, etc. related to the book The Tipping Point
1. (VIDEO) Please find Henry Louis Gates, Jr.'s interview with Malcolm Galdwell on his ethnic background and how these factors inform our identity.
http://www.pbs.org/wnet/facesofamerica/profiles/malcolm-gladwell/9/
2. Fast Company interviews Gladwell on The Tipping Point. Gladwell speaks of his intention as author of The Tipping Point characterizing it as exploration of his own idiosyncrasies.�
http://www.fastcompany.com/1800273/malcolm-gladwell-has-no-idea-why-tipping-point-was-hit
3. The New York Times coins the term "The Gladwell Effect" and discusses how Gladwell has created a new genre of non-fiction modern 'scholarship.'
http://www.nytimes.com/2006/02/05/books/review/05donadio.html?pagewanted=all&_r=0
 Implications and Influence 
4. (VIDEO) Gladwell speaks in Minnesota about violence, safety, and community about growing "tipping" threats in the community. He outlines a preliminary plan for Minnesota and endeavors to foment a new attitude on transformational change.
http://www.youtube.com/watch?v=nPGbDJEnVjk
5. Daniel Lurie, CEO and Founder of Tipping Point, a group funds poverty-fighting organizations in the Bay Area, discusses how Gladwell's 'The Tipping Point' motivated him to found this organization.
http://www.tippingpoint.org/article-63.html
6. Examples of how the term "tipping point" has been appropriated in today's news stories and by journalists.
http://www.huffingtonpost.com/chris-weigant/the-gay-marriage-tipping_b_2952043.html
http://www.politico.com/story/2013/03/mental-health-hhs-pam-hyde-89006.html
Criticism
7. Criticism of The Tipping Point from New York Books. Argues that Gladwell does not take his craft seriously enough and that his work may be subject to the causality/causation logically fallacy.
http://nymag.com/arts/books/features/52014/index1.html
8. Thompson puts Gladwell and Duncan Watts, professor and author of 'Six Degrees', in dialogue with one another on the nature of power human networks and inter-connectedness.
http://www.fastcompany.com/641124/tipping-point-toast
9. Criticism from Columbia Journal Review argues that Gladwell does not support his claims with enough evidence.
http://www.cjr.org/the_observatory/criticism_of_gladwell_reaches.php