Thinking, Fast and Slow by Daniel Kahneman
In Thinking, Fast and Slow, Daniel Kahneman takes us on a groundbreaking tour of the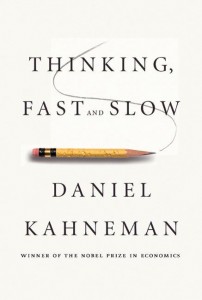 mind and explains the two systems that drive the way we think. System 1 is fast, intuitive, and emotional; System 2 is slower, more deliberative, and more logical. Kahneman exposes the extraordinary capabilities—and also the faults and biases—of fast thinking, and reveals the pervasive influence of intuitive impressions on our thoughts and behavior.
Engaging the reader in a lively conversation about how we think, Kahneman reveals where we can and cannot trust our intuitions and how we can tap into the benefits of slow thinking. He offers practical and enlightening insights into how choices are made in both our business and our personal lives—and how we can use different techniques to guard against the mental glitches that often get us into trouble.
Farrar, Straus and Giroux 2011
Articles, reviews, TED Talks, etc. related to the book Thinking, Fast and Slow
Tag archives for Thinking Fast and Slow
New York Times review of "Thinking, Fast and Slow"
Posted by marybeech on Wednesday, June 20th 2012
In his article Two Brains Running, Jim Holt discusses his thoughts on the main ideas of Thinking, Fast and Slow.
Daniel Kahneman's TED Talk
Posted by marybeech on Tuesday, June 19th 2012     
In his TED Talk, Daniel Kanneman uses examples from vacations to colonoscopies to reveal how our "experiencing selves" and our "remembering selves" perceive happiness differently.