The Shallows: What the Internet Is Doing to Our Brains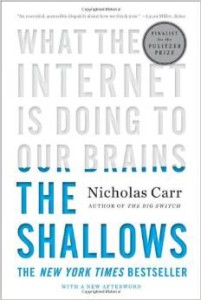 by Nicholas Carr
"Is Google making us stupid?" When Nicholas Carr posed that question, in a celebrated Atlantic Monthly cover story, he tapped into a well of anxiety about how the Internet is changing us: As we enjoy the Net's bounties, are we sacrificing our ability to read and think deeply? Now, Carr expands his argument into the most compelling exploration of the Internet's intellectual and cultural consequences yet published.
Carr makes a convincing case that every information technology carries an intellectual ethic — a set of assumptions about the nature of knowledge and intelligence. He explains how the printed book served to focus our attention, promoting deep and creative thought. In stark contrast, the Internet encourages the rapid, distracted sampling of small bits of information from many sources. Its ethic is that of the industrialist, an ethic of speed and efficiency, of optimized production and consumption—and now the Net is remaking us in its own image.
Part intellectual history, part popular science, and part cultural criticism, The Shallows sparkles with memorable vignettes even as it plumbs profound questions about the state of our modern psyche. This is a book that will forever alter the way we think about media and our minds.
Articles, reviews, TED Talks, etc. related to the book The Shallows
1. Article from which Shallows is expanded (Atlantic) Is Google Making Us Stupid?
Nicholas Carr
July/August 2008
2. Review (New York Times) Our Cluttered Minds
Jonah Lehrer
June 3, 2010
3. Review (NPR) 'The Shallows': Has the Internet Rewired Your Brain?
Oscar Villalon
June 23, 2010
4. Review (Guardian) The Shallows: How the Internet Is Changing the Way We Think, Read and Remember by Nicholas Carr
Steven Poole
Sept. 10, 2010
5. Interview (NPR) 'The Shallows': This Is Your Brain Online
Robert Siegel, All Things Considered (audio)
June 2, 2010 (7:46 min.)
6. Interview (PBS) Conversation: Nicholas Carr's 'The Shallows: What the Internet Is Doing to Our Brains'
Jeffrey Brown and Matthew Kielty
Aug. 27, 2010